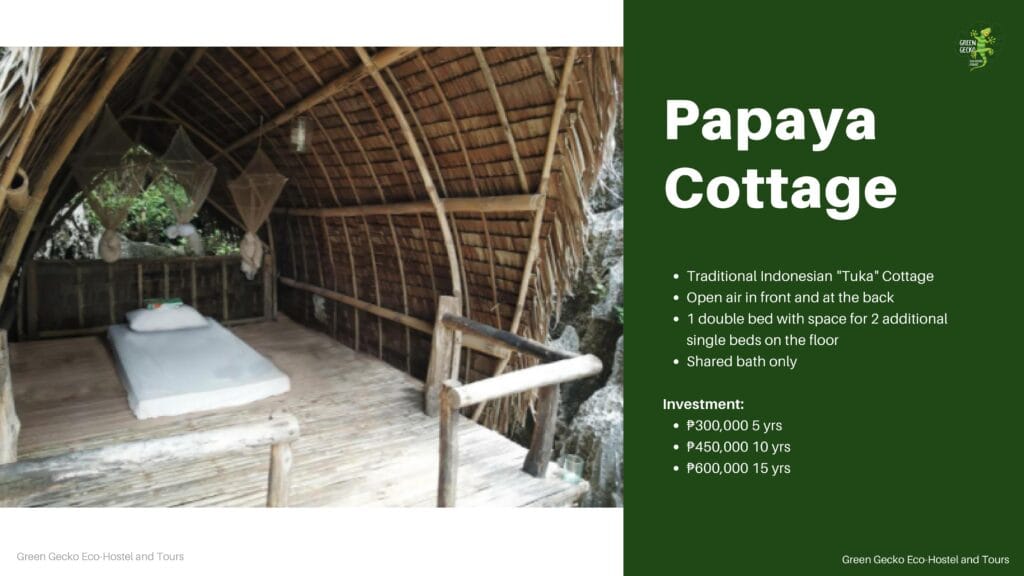 NEW UPDATE!!!
Green Gecko's great investment offering in PALAWAN, voted the #1 Island in the World. Why not live where everyone else only dreams about.
OWN A PART of a Private White Sand Beach project, a Jungle project or join with us on a new island project. Or join in a Joint Venture project to develop from th ground up an 82 hectare island with white sand beaches and 2 blue lagoons.
GREEN GECKO on MONKEY BEACH partnership – Its everybodys dream come true – Own 50% of an amazingly awesome Private White Sand beach Island. Green Gecko has just secured a 15 year lease finalized this Feb 16th, 2021, with an option to extend for another 10 years on Monkey Beach. Thats a total of 25 years. The sand is like fine white powder, so orgasmic it actually sqeaks when you walk on it. My wife says its nicer than Boracay. The water is aqua marine blue the coral is filled with vibrant colors and the exotic fish are everywhere. There is spectacular mountains and cliffs and numerous caves for exploring. It's surroundedby a thick , lush green jungle and of course wild monkeys.
THIS IS PARADISE COME TRUE – wouldnt you want to have a part of it? It's for a limited time only so let me explain how it works.
Monkey Beach site is approved for 50 Bamboo Cottages and 15 Tree houses, a restaurant and a bar. We are offering investors to buy a part of paradise for as little as 200,000 pesos or $4200 usd. You pick the design that appeals to you most. Then pay a 50% deposit and then we build it for you. After its completed the remaining balance is owing. The partnership is 50-50 but we operate it for you. You are also welcome to market your own hut privately or Airbnb etc to ensure its fully booked always. If you have ever been to Coron Town you would know the town itself is quite boring, with no attractions except the Coron View Point on Mount Tapaya. No beaches no amazing lagoons, no awesome ship wreaks and no reason to stay there. All the amazing sights are on other neighboring islands. The nicest islands in the world are just a boat ride away beside Monkey Beach.
JUNGLE HOSTEL – We also have a very nice jungle eco project only a 5 min walk to McDonalds right in the city of Coron.. The LUSH TROPICAL jungle within the city, was started before Covid and we have recently picked up where we have left off. This Eco- Jungle project is the only one of its kind, located right in the city on th Dipulao river. An excellant swimming hole there lets everyone cool down duriing the hot summer days. .and a party atmosphere at night
We presently have a large Island development what we are looking for a fianancially stable partner. High up side ROI. We would like to talk to any and all interested parties.
Finally, please also visit our websites for out 3 day Coron to El Nido Island expeditions and more info Please contact us my wife Joys Facebook is Scherzingerjoy for many island and jungle pics and videos, site plans, contracts and documentation or our whatsapp is +63936 870 3054…. and remember what the famous Billionaire Rothschild said…."The best time to invest is when there is BLOOD (Covid) in th streets" Dont wait till later when the prices double make a profit off of Covid NOW. Don't be kicking yourself later saying I wish I would have done it.
Cheers Brandon and Joy